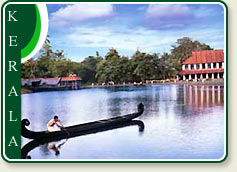 Clinging delightfully to Indiaís south-west coast is a slender, green sliver of rich, fertile land, Kerala Godís own country. And This weekend home is, undoubtedly, the little jewel of Kumarakom. Just 100 kms from Cochin, on the tranquil backwaters of Kerala. And as you drift gently along the backwaters in a traditional "Kettuvallam", you will chance upon a historic retreat set on the banks of tranquil Vembanad lake. Of such pristine stillness and indescribable beauty as can be experienced only in the abode of the gods.
Welcome to the Taj Garden Retreat. The hotel, originally known as Baker's Bungalow, comprises of a set of completely refurbished colonial bungalows on the banks of the Vembanad Lake. The picturesque lake and sylvan bird sanctuary nearby make you feel one with nature. The Taj Garden Retreat is 14 km from Kottayam and easily accessible by land and water.
Accommodation:
Luxuriously appointed with a comfortable living area, spacious bedroom, a dining area, a bathroom and a sun deck, to ensure you experience God's own country in its glory.
Amenities:
Front Desk, Concierge, Restaurant, Safe Deposit Box, Room Service, Room-Service 24 Hours, Outdoor Pool, Meeting Facilities
Services:
Post, Pool, Laundry, Medical, Concierge Desk, Currency Exchange, In Room Telephone Service, Luggage Storage, Wake Up Service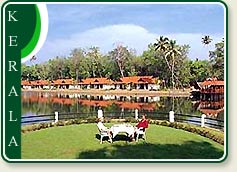 Room Facilities:
AC, Cable TV, Direct Phone, Channel Music, Attbath, Shower, Work Desk, Safe Deposit Box, Smoke alarms
Location:
14 km from Kottayam, accessible by both land and water. Next to a bird sanctuary and the Vembanad Lake.
Recreation Facilities:
Backwater cruise, Bird watching, Ayurvedic massage, Wind sailing, water skiing in Venband lake, Boating, fishing in the Aqua Lagoon, Bicycle excursion, Demonstration of Kerala martial arts and traditional folk dances on request.
Ayurvedic Spa Facilities:
With rest and relaxation the only agenda here, you could always schedule an escapade with the nimble fingers of our masseurs next ( at our Ayurvedic oil therapy centre ). And have every last bit of tension expertly kneaded from your body. By using 2000 year-old techniques and fragrant herbal oils, our in-house doctor has cured many a creaking bone. And, over a course of a day ( or a maximum of 14 ), you too can experience the holistic treatments offered by the Ayurvedic Sciences, Meditation and Yoga.